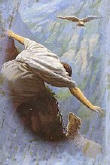 The Basics
Study Courses


Contents
I sense the Lord leading me to put my personal testimony on line, it is kind of difficult because he has done so many things for me and I don't know where to start. In writing this, I can still feel the pain and emptiness of a broken heart and a broken life, a lost soul wandering in darkness, desperately seeking to be loved.
A Brief Testimony
I had received Christ as my Savior in 1965 but turned away from God for many years. Looking back at my life I can see how God used everything that took place in my life, to lead me back to Jesus (thank you my Lord). To make a long story short, I had to come to a place in my life where I was heart broken and my life was in total ruin. I refer to it as a bombed out city. After I helplessly watched, as my son died in my arms, two years later I again could only watch, as my first wife took her last breath; she was only 28. With her; went our dreams and all of our hopes.

With two little girls to raise by myself, I turned to alcohol and drugs, trying to escape the frustration, pain and loneliness. After a couple of years of running the bars, seeking love and only finding empty hearts, one night in desperation I screamed out, from the depths of my soul "doesn't anyone love me?" While sitting on the sofa something happened, the only way I can describe it, is like this. It was kind of like a cloud which dropped right out of the ceiling and I heard the Lord speaking and He said to me "I Love You" In that brief moment as I raised my hands up and the word Jesus sobbed from my heart, I knew and will never doubt, that there is someone who loves and cares about me. Even then it was another year before I surrendered my life to the Lord. I gave God the only thing I had, the ashes of my life. He took those ashes and returned to me a beautiful wife, two grown daughters, two son in laws and 3 precious grandchildren.

God never brought tragedy into my life, everyone sooner or later will experience some degree of sorrow and pain. In my case, God worked it all to my good and still continues to do so. Degenerative disk disease and an operation on a brain tumor, keeps me from doing the secular work that I once did, but even this God has used to the good. I have more time to serve my Lord. There are many more personal things I could share concerning my testimony and probably will, from time to time, as the Lord leads me too.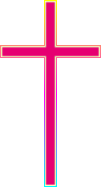 In Christ's Service
E.L. Davis