Back
Hebrews 11:15-16 For we have not an high priest which cannot be touched with the feeling of our infirmities; but was in all points tempted like as we are, yet without sin.
16. Let us therefore come boldly unto the throne of grace, that we may obtain mercy, and find grace to help in time of need.
w Praise God for Jesus, He knows what it feels like to be tempted, rejected, talked about, abused and scorned. Because He can relate to us, He can help us.
Please notice the following:
Isaiah 53:2-3 For he shall grow up before him as a tender plant, and as a root out of a dry ground: he hath no form nor comeliness; and when we shall see him, there is no beauty that we should desire him.
3. He is despised and rejected of men; a man of sorrows, and acquainted with grief: and we hid as it were our faces from him; he was despised, and we esteemed him not.
w The Lord Jesus was rejected by His own countrymen, by the religious leaders and even some of His own family members considered Him mad.
Mark 3:21 When his family heard about this, they went to take charge of him, for they said, "He is out of his mind."
w We all have had our hearts broken at some point in our lives, Sometimes when people come to Christ they come with the baggage of sorrows, remorse, guilt, heart break, failures and shattered dreams. Many are sitting in the pain and sorrow of yesterday, laden down with burdens, yoked to the past. Praise God, Jesus is not only our Savior but also our great physician, deliverer and helper.
Brothers and sisters Our Lord said:
Matthew 11:28 "Come unto me, all ye that labour and are heavy laden, and I will give you rest."
Psalms 55:22 Cast thy burden upon the Lord, and he shall sustain thee: he shall never suffer the righteous to be moved.
w Today can be a day of new beginnings for you, Let us go before the Lord's presence and seek His wonderful help, giving to Him your sorrow, pain. Ask Him to give back to you beauty for your ashes and joy for your sorrow.
Isaiah 61:3 To appoint unto them that mourn in Zion, to give unto them beauty for ashes, the oil of joy for mourning, the garment of praise for the spirit of heaviness; that they might be called trees of righteousness, the planting of the Lord, that he might be glorified.
As you pray lift a hand to the Lord, praise Him, worship Him, thank Him for His goodness. God inhabits the praises of His people.
Lord Jesus I praise you and thank you for saving me. Lord I have these burdens ___________ these pains_____________these sorrows________________ this guilt________________Oh my God, I can't take it any more, Lord it's too much for me. Lord I give to you my pain, my burden, my ashes; please give to me your peace, your joy, your beauty. Praises unto my King, thank you.
John 10:10 The thief cometh not, but for to steal, and to kill, and to destroy: I am come that they might have life, and that they might have it more abundantly.
John 8:36 If the Son therefore shall make you free, ye shall be free indeed.
w Now that you have given to the Lord your burdens and pain; your peace of mind must be maintained or Satan will seek to put the burdens and hurt back on you.
* The key to maintaining and keeping your peace and freedom is in the following scriptures.
Philippians 4:6-8 Be anxious for nothing, but in everything by prayer and supplication, with thanksgiving, let your requests be made known to God;
7. and the peace of God, which surpasses all understanding, will guard your hearts and minds through Christ Jesus.
8. Finally, brethren, whatever things are true, whatever things are noble, whatever things are just, whatever things are pure, whatever things are lovely, whatever things are of good report, if there is any virtue and if there is anything praiseworthy meditate on these things.
* Once you have cast your burden upon the Lord, be careful about what you think(meditate) about. If you allow your mind to wonder back to those things that caused you pain, sorrow, etc. you will get yourself right back under those burdens, to the delight of Satan, your adversary. Remember you have given to Jesus your____________________.
* Father please help those that have cast their burdens upon you, to forget those bad things of yesterday. Please bring restoration to every area of their lives, please help them to meditate on good things and may your peace guard their hearts and minds. In the name of our Lord and Savior Jesus Christ, amen.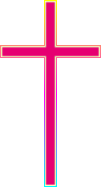 In Christ's Service
E.L. Davis