Back
Pornography Gluttony Tobacco Alcohol Worry Heavy Hearts
---
There are many who carry the burdens of broken hearts, placed there by rejection, broken marriages, death of loved ones, abuse, unfulfilled dreams, and a variety of lifeís problems.

But!
God desires to Heal
Isaiah 61:1-3 The Spirit of the Lord God is upon me; because the Lord hath anointed me to preach good tidings unto the meek; he hath sent me to bind up the brokenhearted, to proclaim liberty to the captives, and the opening of the prison to them that are bound;
2. To proclaim the acceptable year of the Lord, and the day of vengeance of our God; to comfort all that mourn;
3. To appoint unto them that mourn in Zion, to give unto them beauty for ashes, the oil of joy for mourning, the garment of praise for the spirit of heaviness; that they might be called trees of righteousness, the planting of the Lord, that he might be glorified.
Luke 4:18 The Spirit of the Lord is upon me, because he hath anointed me to preach the gospel to the poor; he hath sent me to heal the brokenhearted, to preach deliverance to the captives, and recovering of sight to the blind, to set at liberty them that are bruised,
Psalms 147:3 He healeth the broken in heart, and bindeth up their wounds.

The Lord Jesus can relate to us.
Isaiah 53:3-4 He is despised and rejected of men; a man of sorrows, and acquainted with grief: and we hid as it were our faces from him; he was despised, and we esteemed him not.
4. Surely he hath borne our griefs, and carried our sorrows: yet we did esteem him stricken, smitten of God, and afflicted.
Psalms 69:20 Reproach has broken my heart, And I am full of heaviness; I looked for someone to take pity, but there was none; And for comforters, but I found none.

Come to Jesus for help!
Hebrews 4:15 For we do not have a High Priest who cannot sympathize with our weaknesses, but was in all points tempted as we are, yet without sin.
16. Let us therefore come boldly to the throne of grace, that we may obtain mercy and find grace to help in time of need.
John 8:36 If the Son therefore shall make you free, ye shall be free indeed.

Please Notice.
Matthew 11:28-30 Come unto me, all ye that labour and are heavy laden, and I will give you rest.
29. Take my yoke upon you, and learn of me; for I am meek and lowly in heart: and ye shall find rest unto your souls.
30. For my yoke is easy, and my burden is light.

Give it to the Lord
Psalms 55:22 Cast thy burden upon the Lord, and he shall sustain thee: he shall never suffer the righteous to be moved.
We all must take our burdens to the Lord and learn to leave them with Him. What can you or I do about them anyways?
We must learn, what Apostle Paul learned.
Philippians 3:13-14 Brethren, I count not myself to have apprehended: but this one thing I do, forgetting those things which are behind, and reaching forth unto those things which are before,
14. I press toward the mark for the prize of the high calling of God in Christ Jesus.
Donít allow your past to hold you back from your future. Many live in their past and are bound there.
Are you ready for new beginnings?
Please pray and ask God to help you.
Father God, in the name of the Lord Jesus Christ I come to you for help. Lord I am broken hearted by_______________________please heal me of this Lord, I give it all to you, help me Lord to leave it with you.
Give to God all your burdens!
Heavenly Father in Jesus name I ask that every person who is reading this and is in need of help, please heal their broken hearts and take the burdens from them. May they be given beauty for ashes, the oil of joy for mourning and the garment of praise for the spirit of heaviness. Praise your holy name forever!
Thank you good Father!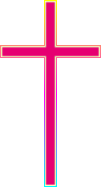 In Christ's Service
E.L. Davis